Announcements
Media Use Tips
Encourage WES/WMS/WHS students to be involved in variety of free-time activities, like spending time with friends, joining clubs or after-school activities, and exercising. Encourage your teen to be physically active every day and get enough sleep.

Turn off devices during meals and at least an hour before bedtime

. Keep devices with screens out of your teen's bedroom after bedtime and don't allow a TV in your teen's bedroom. This will help your teen get enough sleep.

Research video and computer games before letting your teen get them

. Look at the ratings, which can run from E (for "everyone") to AO (meaning "adults only"). Teens probably should be limited to games rated T (for "teens") or younger. If possible, preview games and even play them with your teen to see what they're like. The game's rating may not match what you feel is OK.

Spend time together with your teen watching TV, playing games, or going online

. Use this time as a chance to talk and learn together.

Keep the computer in a common area where you can watch what's going on

. Teach your teen about safe Internet and social media use. Make sure they know the dangers of sharing private information online, cyberbullying, and sexting. 
Set a good example. Turn off TVs and other devices when not in use. Turn off or mute your phone when you're not using it and during family times, like meals.
American Academy of Pediatrics 
DEDICATED TO THE HEALTH OF ALL CHILDREN 
Media is everywhere, and managing it all can be tough. Creating a Family Media Plan can help you and your children set media priorities that matter most to your family. Come back to revise your plan as often as you need to, such as at the beginning of each school year or during summer and holiday breaks.​

Here's how it works
Since media habits are different for every household, the Family Media Plan can be customiz​ed to meet your family's needs. Make a full plan, or just choose a few parts that matter the most to your family.
The Family Media Plan includes:
A list of media priorities to choose from

Practical tips to help make the plan work

Why it's important

The ability to print or share your finished plan

The ​option to save your plan and return as often as you'd like to make changes

Common Sense Media has information about age and content appropriateness of video games and other media
 
​
To find this ​information in Spanish, click here
E-cigarettes and Brain Development
Nicotine exposure during adolescence, a critical period for brain development, can cause addiction and can harm the developing brain. This video underscores the health risks for teens.
https://www.youtube.com/watch?v=JPnDkHBFDEo
If you are having difficulty playing the any of our YouTube videos please either use Internet Explorer to access the video or change your YouTube player from Flash to HTML5 and refresh your browser window. The Flash based YouTube player is currently not accessible to screen readers.
Approximately three million Texans  – 10.63% of the state population – use illegal drugs and another one million – 3.62% of the  
This fact sheet provides information taken from the Surgeon General's Report about e-cigarette use among youth and young adults with a focus on trends and health risks.
This tip sheet is to help parents talk with their teens about the potential health risks of e-cigarettes.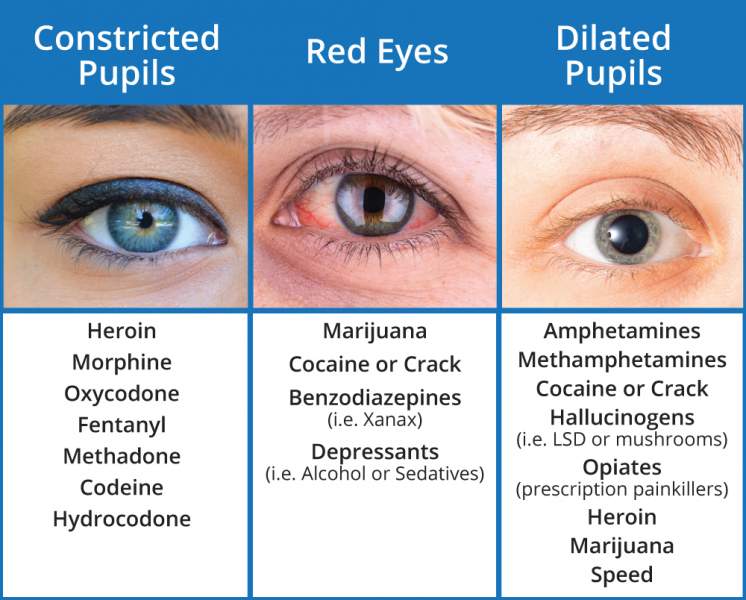 Seven causes of pinpoint pupils
The pupils react naturally to changing light levels, controlling how much light gets into the eyes. What does it mean if the pupils look abnormally small and do not change as expected?